Island Patio Table
Regular price
$2,444.00 USD
Regular price
$2,669.00 USD
Sale price
$2,444.00 USD
Unit price
per
Sale
Sold out
Enjoy the playful simplicity and effortless elegance of the Island Patio Table. Share beautiful conversations around a charcuterie plate, or place a captivating book to the side as you rest your eyes. The Island Patio Table is a functional piece of art that will beautifully enhance your outdoor space.
Features
Made with raw volcanic basalt, making it a natural and sustainable choice.
Customizable colours to perfectly complement the style of your space.
Durable and long-lasting with a lifespan of 20-30 years.
Handcrafted design ensures every piece is unique and unrepeatable.
Weather-resistant materials can withstand snow, rain, seawater, frost, and UV rays.
Low maintenance allows for more relaxation and less worry.
Crafted with lightweight materials and easy to move around your space.
Includes a 10-year limited warranty.
Please note: the quoted price is for black furniture. To get this piece in other colours, send us a message.
Dimensions

Width: 27.5in (70cm)

Length: 31.5in (80cm)

Height: 39.4in (100cm)

Weight: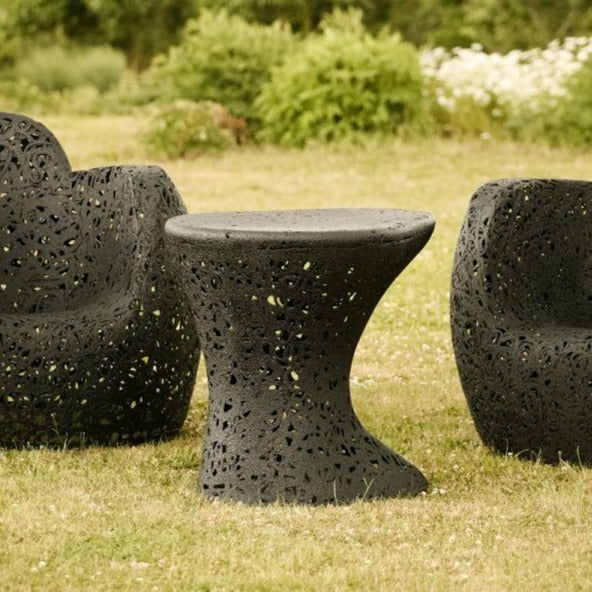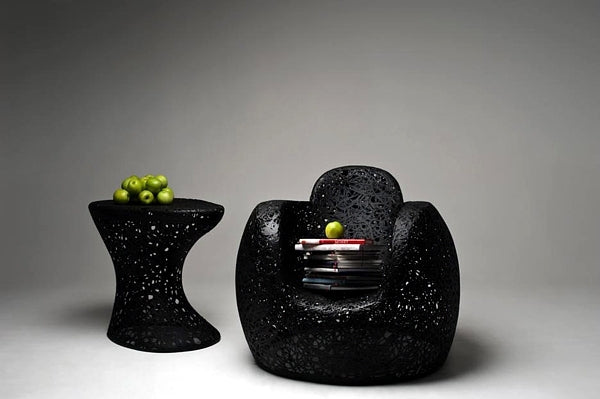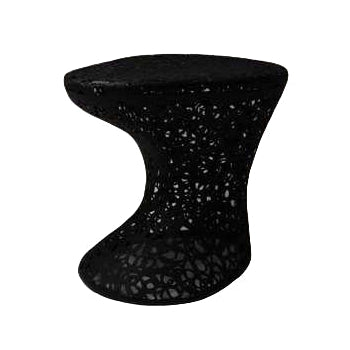 Unique design
The Island table is a great compact size and I just love the fact that every design is unique. It feels like this piece was made especially for me!
Good table
I surprised my wife with this table and now she wants one of everything on this site. The quality is exceptional and the table matches all of our furniture.
It's the perfect patio table)
After my shopping spree at Mauna Sway, I'm obsessed with volcanic furniture. This table is so great because I don't have to worry about the rain, snow, or rings from coaster-less drinks.
I love it!
This little table is so charming. I got it to match my Throne chair and I love it! The natural shape & intricate design is so beautiful to look at.
Strong & Durable

Handcrafted & Unique

Natural & Sustainable

10 Year Warranty
Transform Your Patio With a Luxurious Piece of Volcanic Art
Mauna Sway's Island Patio Table is a beautiful fusion of imaginative craftsmanship and practical design. Although compact, this table has the power to transform your seating area by lending itself as an artistic centrepiece.

Our innovative sculptors use ancient techniques and natural materials to achieve the intricate detailing in all of our luxury patio furniture. The volcanic stone we use in our designs is believed to have grounding properties, allowing those nearby to calm their minds and center themselves in the present moment.

The strikingly beautiful Island Patio Chair is designed to withstand the elements, be highly resistant to seawater and chlorine, and last for years to come. Whether you're sharing candlelight conversation with a glass of wine or sipping your coffee in the early morning, the Island Patio Table will be the perfect addition to your outdoor patio area.
Frequent Questions
What materials are used to craft these chairs?

Our furniture is carefully crafted from basalt, a naturally occurring volcanic material. Our process involves melting the basalt stone at 1500°C (2732°F) and pushing it through nozzles to create fine stone threads. As a result, basalt fibre has excellent flexibility, resulting in a finished product with remarkable strength and long-lasting durability.
Is this table suitable for outdoor use?

Absolutely! Our basalt tables are entirely weatherproof and can withstand snow, rain, seawater, frost, and UV rays. Their resistance to the elements makes them perfect for both indoor and outdoor settings.
Is the Island Patio Table heavy?

Volcanic Basalt is a surprisingly lightweight material. The Island Patio Table is easy for anyone to lift and move around your space.
Does the Island Patio Table come with a warranty?

Due to the long-lasting and durable nature of Volcanic Basalt, all of our outdoor furniture creations include a 10-year limited warranty.
Where do you make your products?

We have a talented team of creative designers and expert architects based in Latvia, Europe.