Walnut Hanging Nest Chair
Regular price
$4,092.00 USD
Regular price
$4,464.00 USD
Sale price
$4,092.00 USD
Unit price
per
Sale
Sold out
Sway in dreamlike harmony and blissful relaxation with the Walnut Hanging Nest Chair. Share good times with friends, connect with loved ones, or spark your vitality after a long day wrapped in earthly magma that soothes the body and soul. 
Features
Made with raw volcanic basalt, making it a natural and sustainable choice.
Customizable colours to perfectly complement the style of your space.
Durable and long-lasting with a lifespan of 20-30 years.
Handcrafted design ensures every piece is unique and unrepeatable.
Weather-resistant materials can withstand snow, rain, seawater, frost, and UV rays.
Easy installation and low maintenance allow for more relaxation and less worry.
Holds up to 880lbs (400kg) and is perfect for the whole family to enjoy.
Crafted with lightweight materials and easy to move around your space.
Includes a 10-year limited warranty.
Please note: the quoted price is for black furniture. To get this piece in other colours, send us a message.
Dimensions

Width: 74.8in (190cm)

Length: 45.2in (115cm)

Height: 59in (150cm)

Weight: 66lbs (30kg)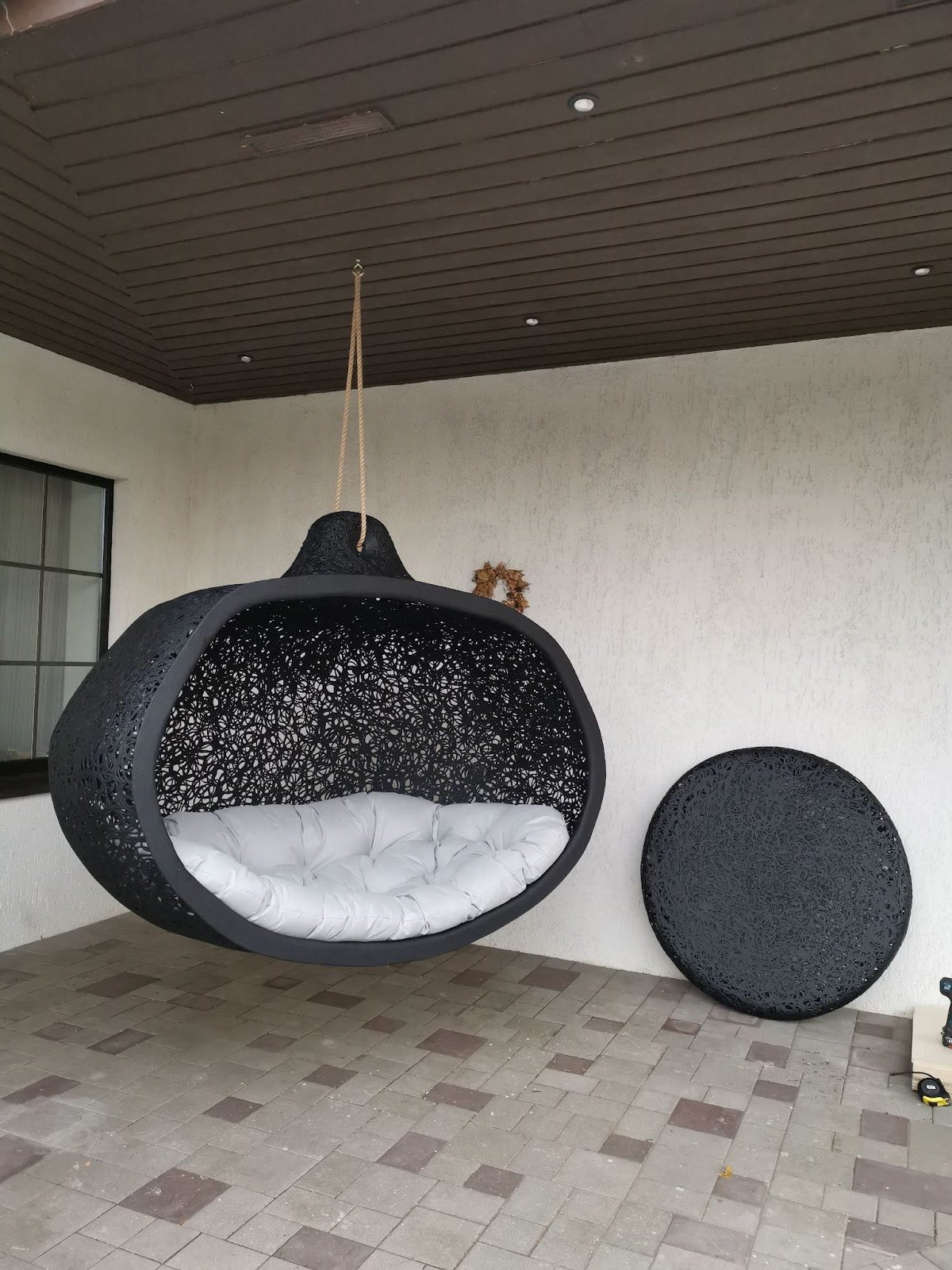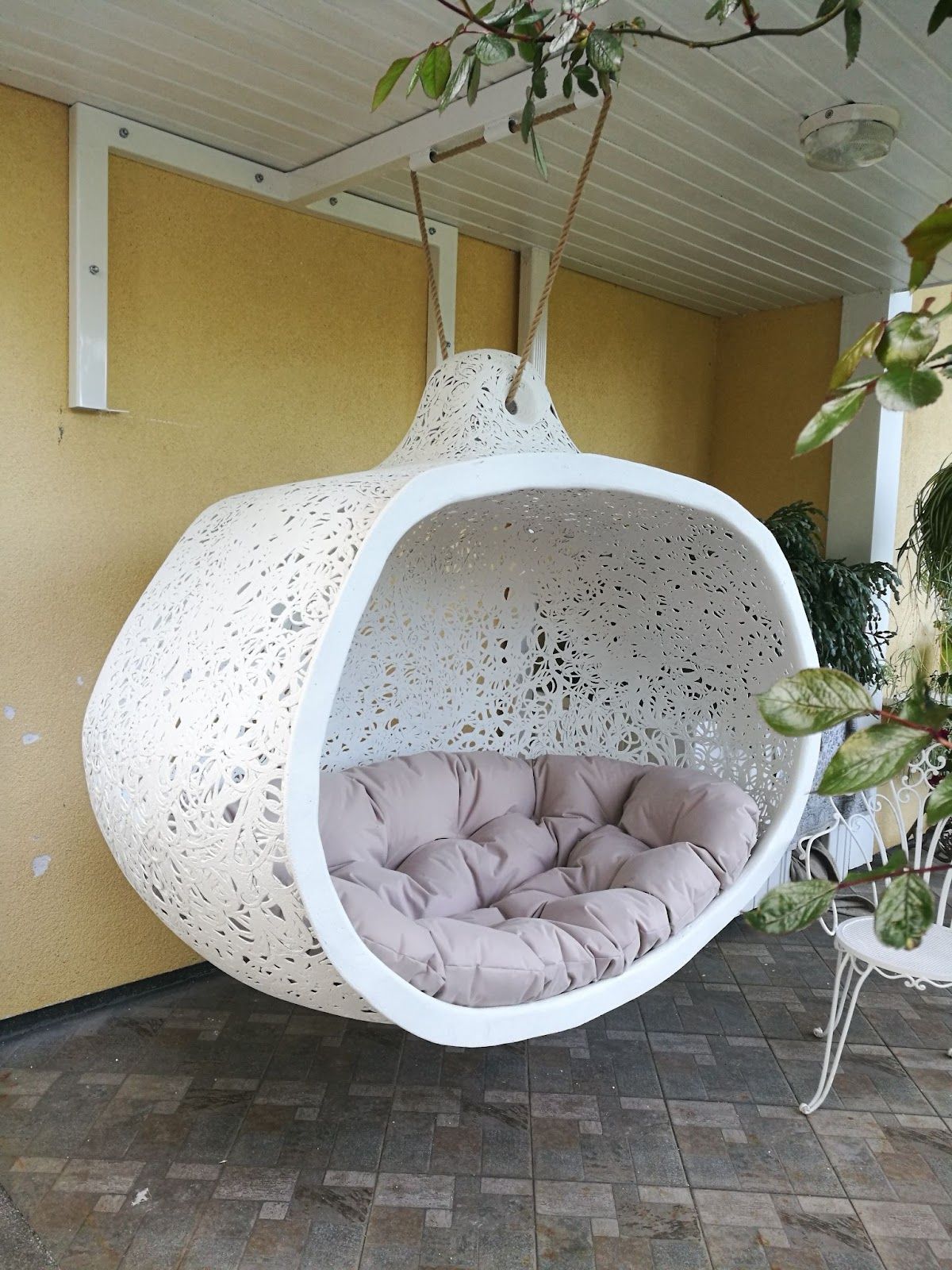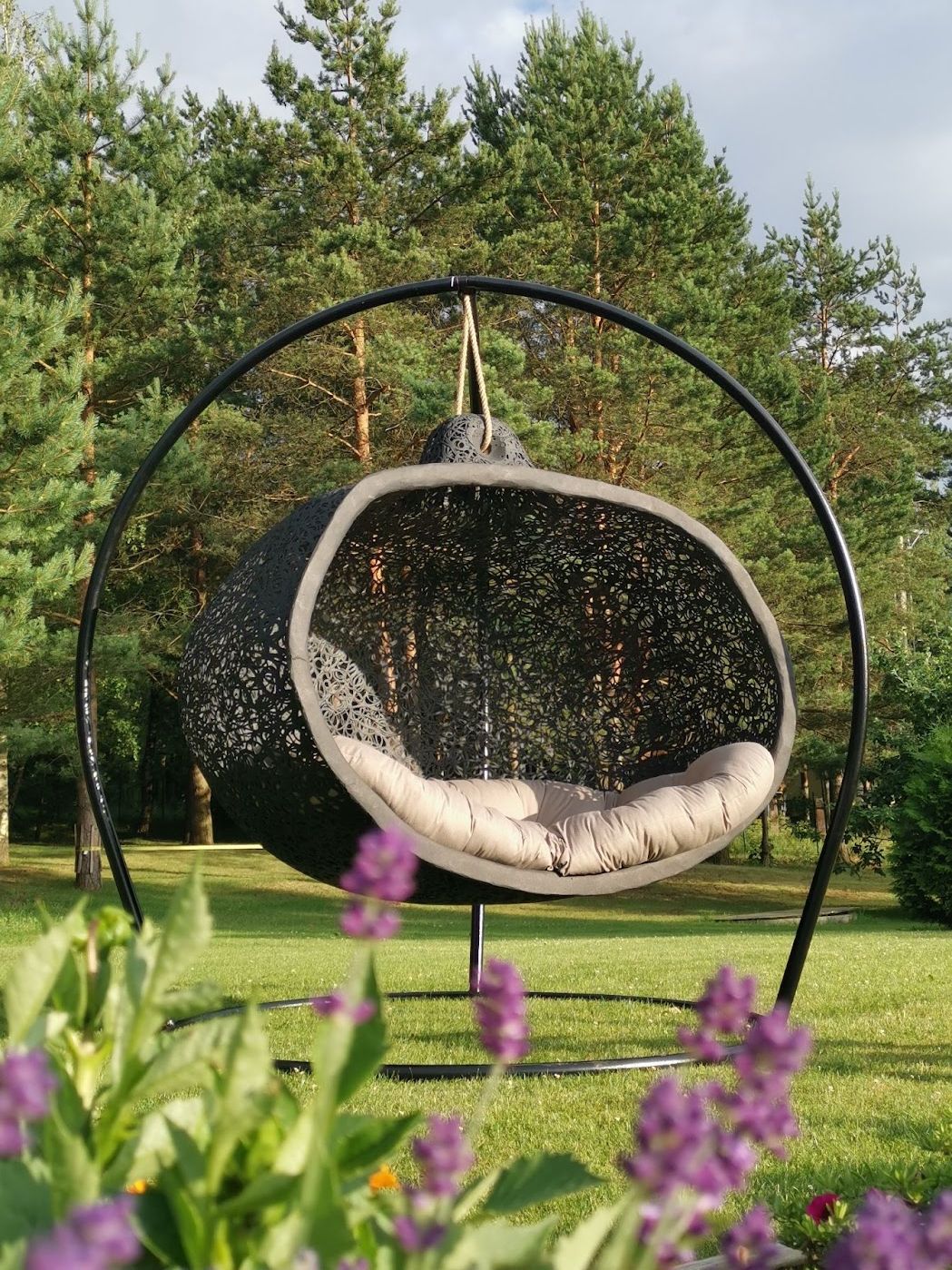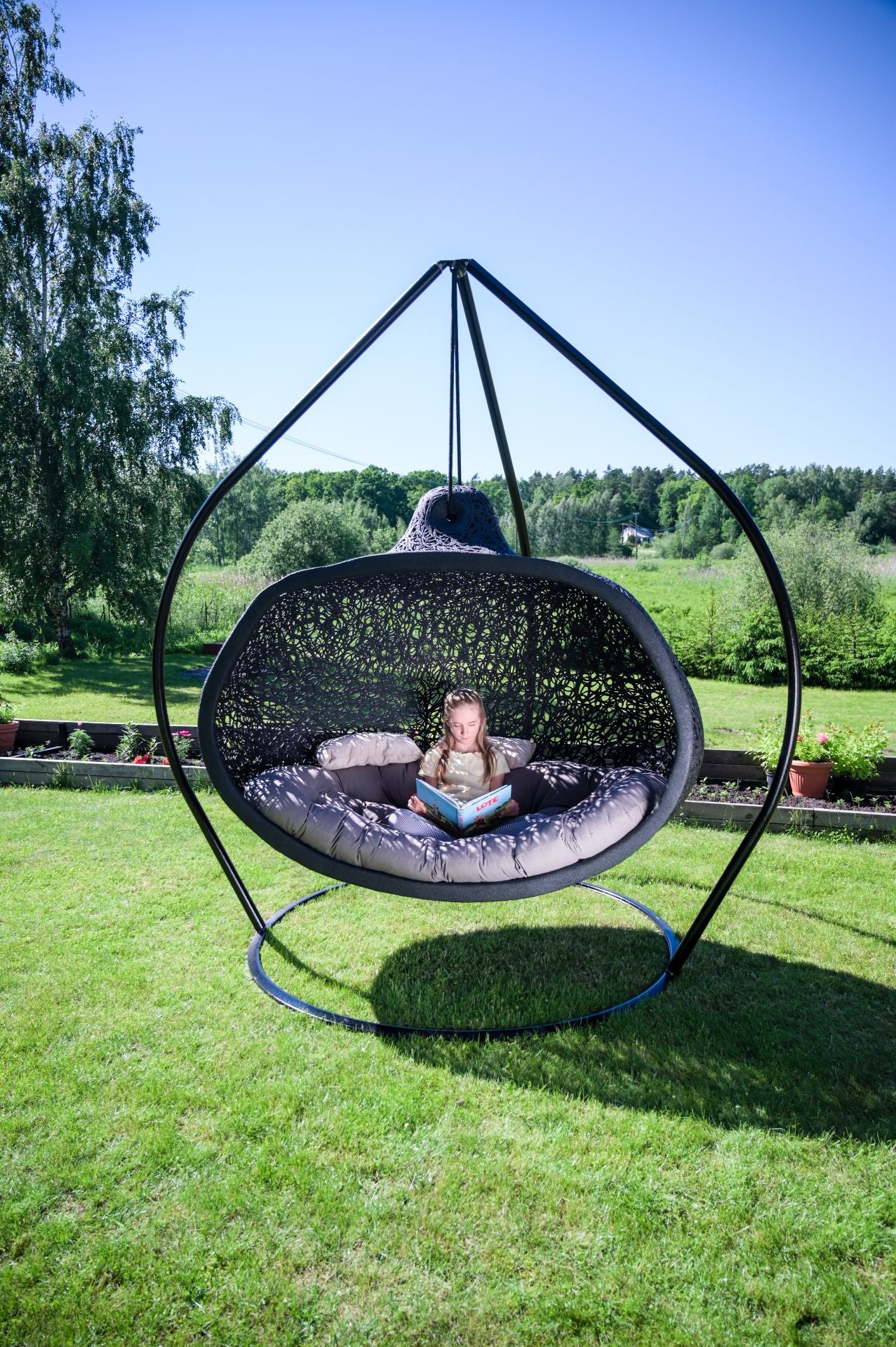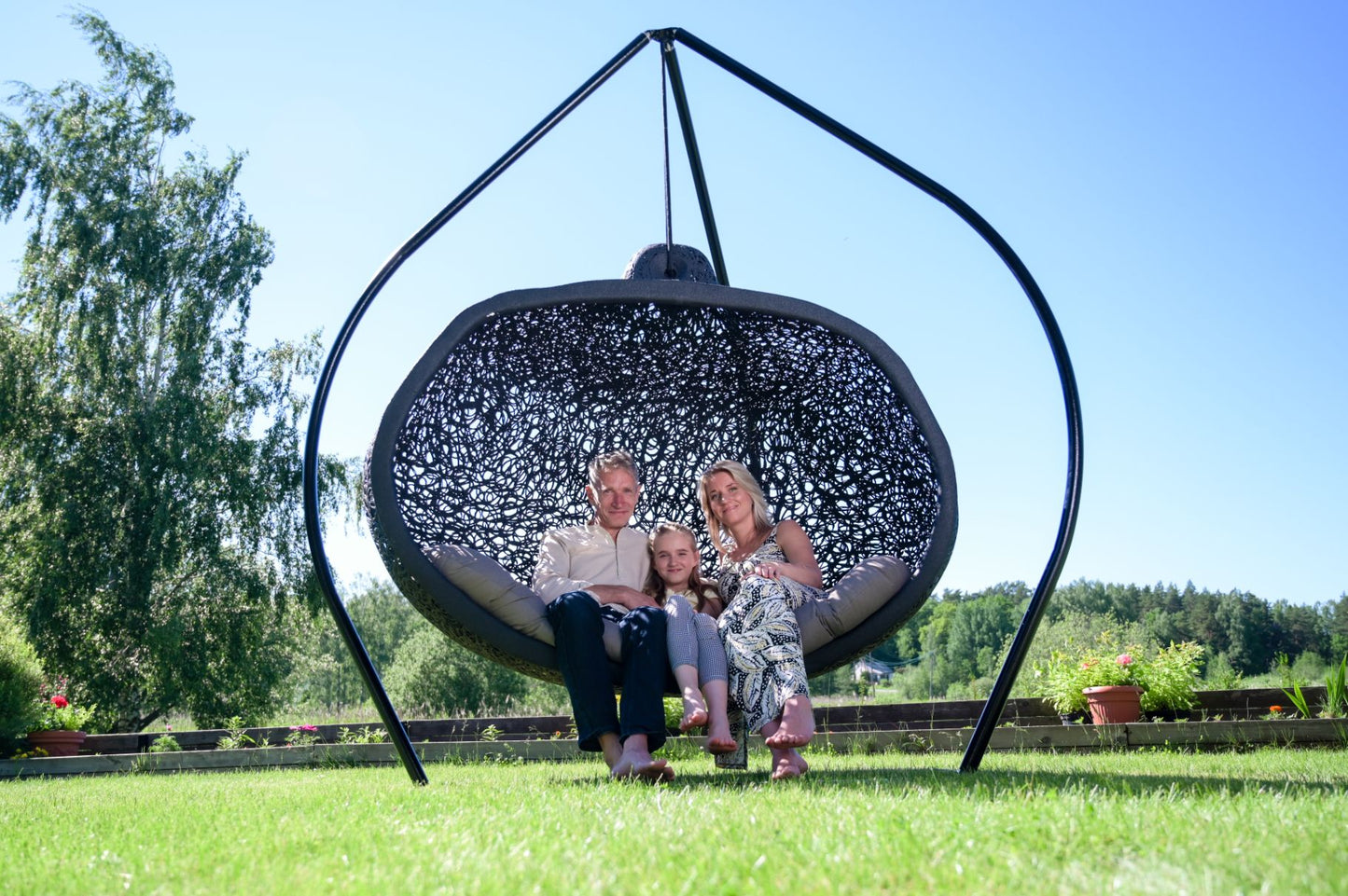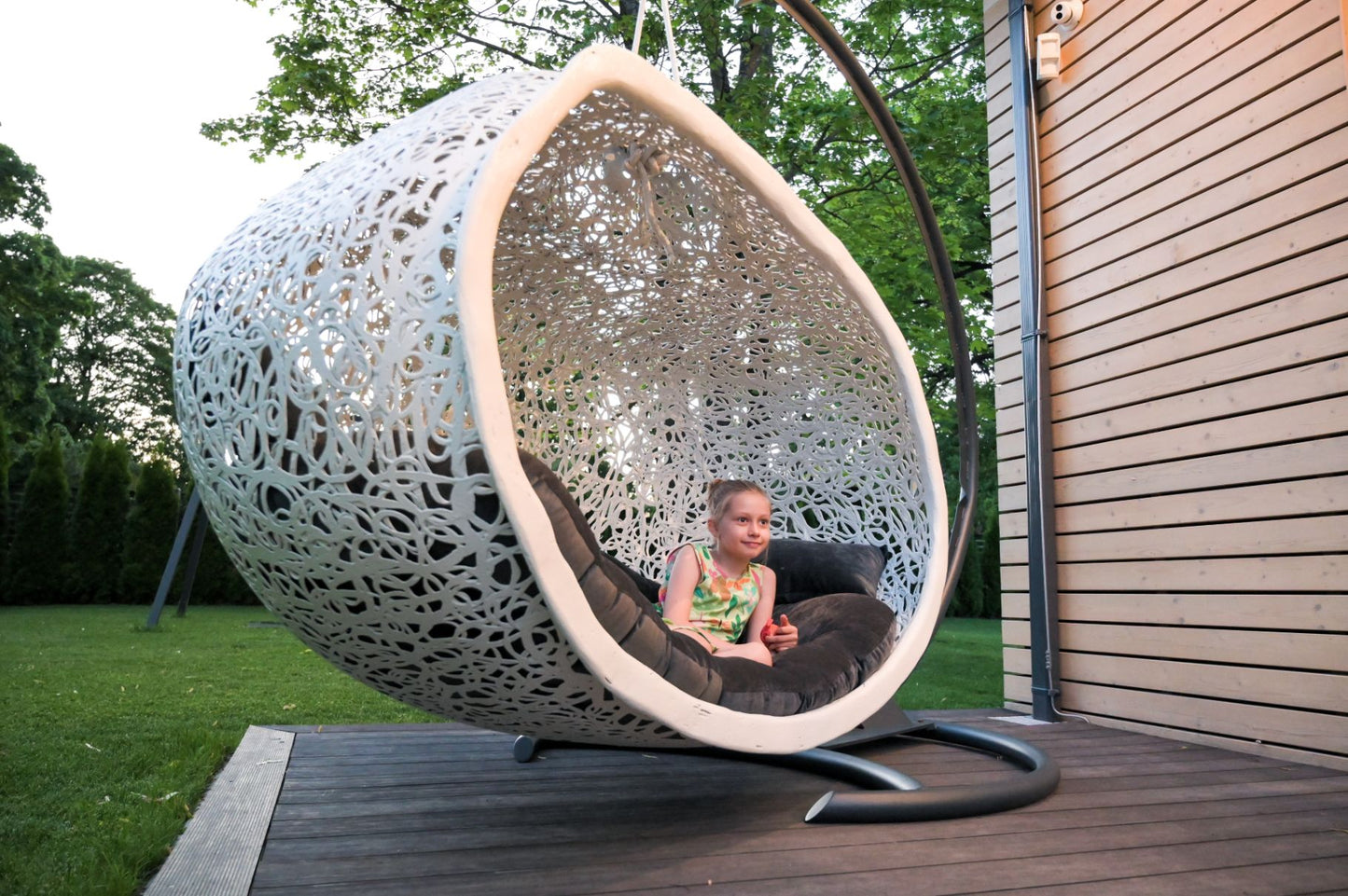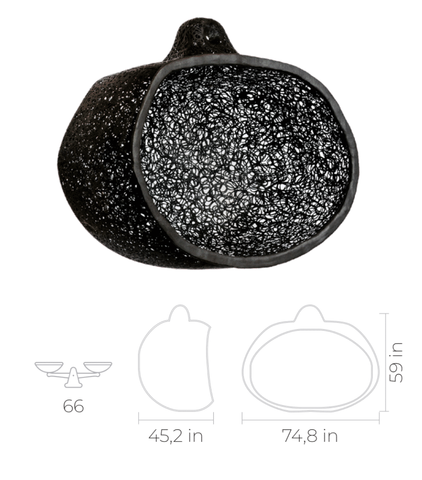 Beautiful craftsmanship
I wanted a minimal statement piece of furniture for my poolside area and this Walnut chair completely pulled together the look I was aiming for. Beautiful craftsmanship and an utterly unique & sophisticated design.
Walnut Chair
This Walnut Chair was an amazing investment in our outdoor patio space. It was easy to install, very lightweight, and looks perfect no matter where we move it to.
Uniquely element our outdoor space
This is such an exceptional piece of furniture. It adds a uniquely beautiful element to our outdoor space & everyone gravitates towards it when we're entertaining.
It`s amazing!
The Walnut hanging chair is the most amazing thing I own. My husband, myself, and our two kids can all fit in here easily. This chair has honestly changed the way I spend my time outdoors and it's just so beautiful to look at!
I love this incredible chair!
my husband and I can both lie down in there at the same time & there's still plenty of room! It's so comfortable and just makes our yard look complete.
Strong & Durable

Handcrafted & Unique

Natural & Sustainable

10 Year Warranty
Experience refined luxury that will ground your body and nurture the soul.
The Walnut Nest was designed to help escape the stress of modern life in a soothing setting. Share your nest with friends, family, or enjoy some quality alone time. The rhythmical sway of the chair encourages you to truly rest and relax.

Each hanging lounger is crafted by hand and has a one-of-a-kind design that will transform your space and enhance your energy. We use a volcanic rock as the main material in our creations, which is believed to cleanse negative emotions and stimulate creativity.

Each hanging lounger comes with:

• A black, polypropylene rope
(16mm diameter, 4 metres, can hold up to 500kg)
• A comfortable cushion
• Unique Identification Passport

Our luxury outdoor chair is long-lasting and durable, able to withstand 4-seasons of weather and comfortably hold an entire family. With an emphasis on comfort, beauty, and versatility, the Walnut Nest is the perfect addition to any outdoor or indoor space.
Frequent Questions
What materials are used to craft these hanging chairs?

Our furniture is carefully crafted from basalt, a naturally occurring volcanic material. Our process involves melting the basalt stone at 1500°C (2732°F) and pushing it through nozzles to create fine stone threads. As a result, basalt fibre has excellent flexibility, resulting in a finished product with remarkable strength and long-lasting durability.
Are these chairs suitable for outdoor use?

Absolutely! Our basalt chairs are entirely weatherproof and can withstand snow, rain, seawater, frost, and UV rays. Their resistance to the elements makes them perfect for both indoor and outdoor settings.
How much weight can the Walnut Hanging Nest Chair hold?

Our Walnut Hanging Nest Chair is exceptionally strong and can hold up to 880lbs (400kg), making it an ideal space to relax with friends and family.
How do I install this chair?

Each of our hanging chairs includes a rope for installation. Firmly tie one end of the rope to the chair and the other end to a stable surface where you wish to hang the chair from, such as a hook, beam, or branch.
Where do you make your products?

We have a talented team of creative designers and expert architects based in Latvia, Europe.