Egg Nest Hanging Chair
Regular price
$4,800.00 CAD
Regular price
$5,200.00 CAD
Sale price
$4,800.00 CAD
Unit price
per
Sale
Sold out
Sit back into your own world of comfort, calm and clarity in our Egg Nest Hanging Chair for one. Reflect on the day or energize your soul to begin a new one. The Egg Nest was designed to help you relax and inspire peace of mind.
Features
Made with raw volcanic basalt, making it a natural and sustainable choice.
Customizable colours to perfectly complement the style of your space.
Durable and long-lasting with a lifespan of 20-30 years.
Handcrafted design ensures every piece is unique and unrepeatable.
Weather-resistant materials can withstand snow, rain, seawater, frost, and UV rays.
Easy installation and low maintenance allow for more relaxation and less worry.
Holds up to 660lbs (300kg) and is perfect for 1 person to enjoy.
Crafted with lightweight materials and easy to move around your space.
Includes

 

a

 

10-year

 

limited warranty.
Please note: the quoted price is for black furniture. To get this piece in other colours, send us a message.
Dimensions

Width: 43.3in (110cm)

Length: 42.1in (107cm)

Height: 63.3in (161cm)

Weight: 41lbs (18.6kg)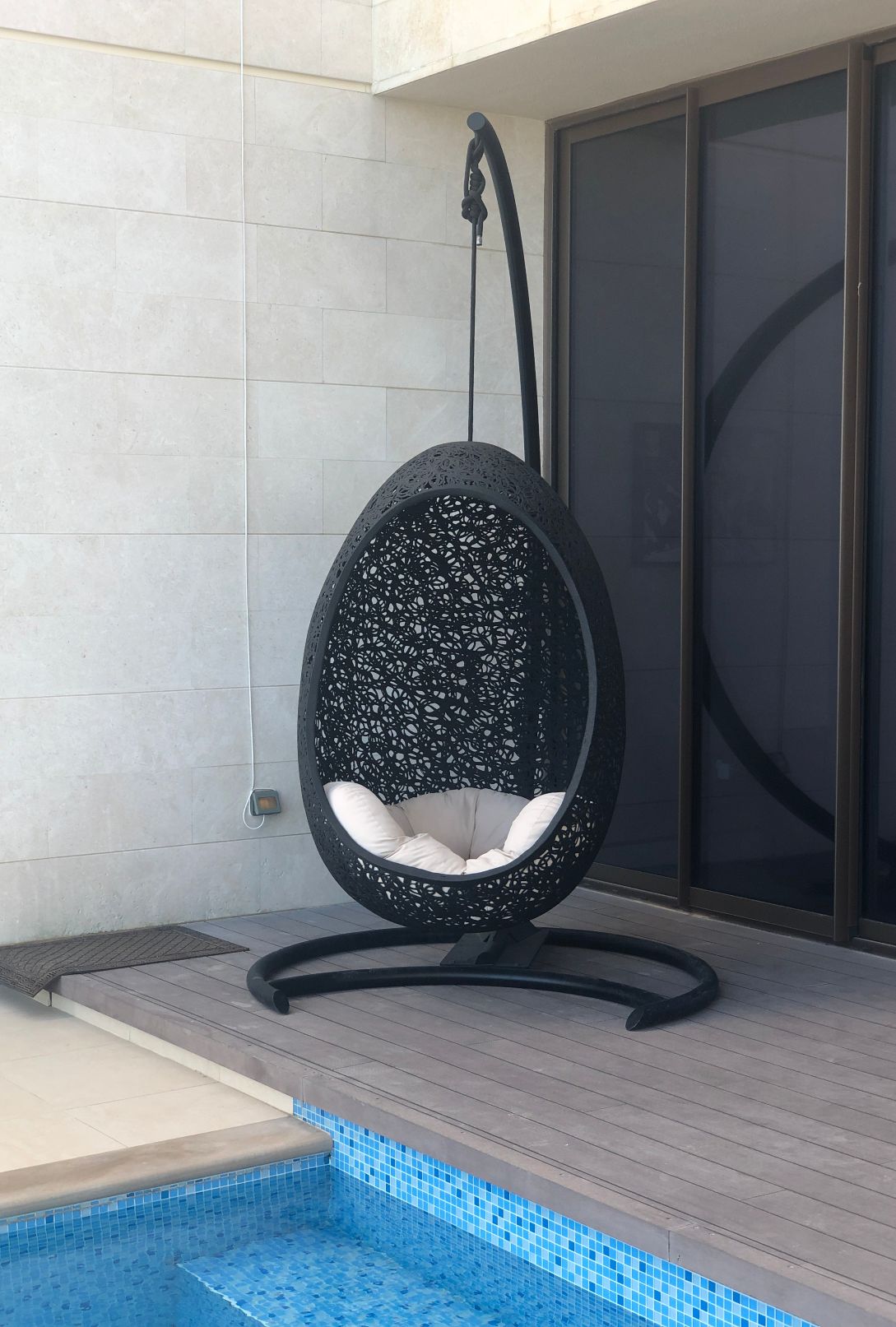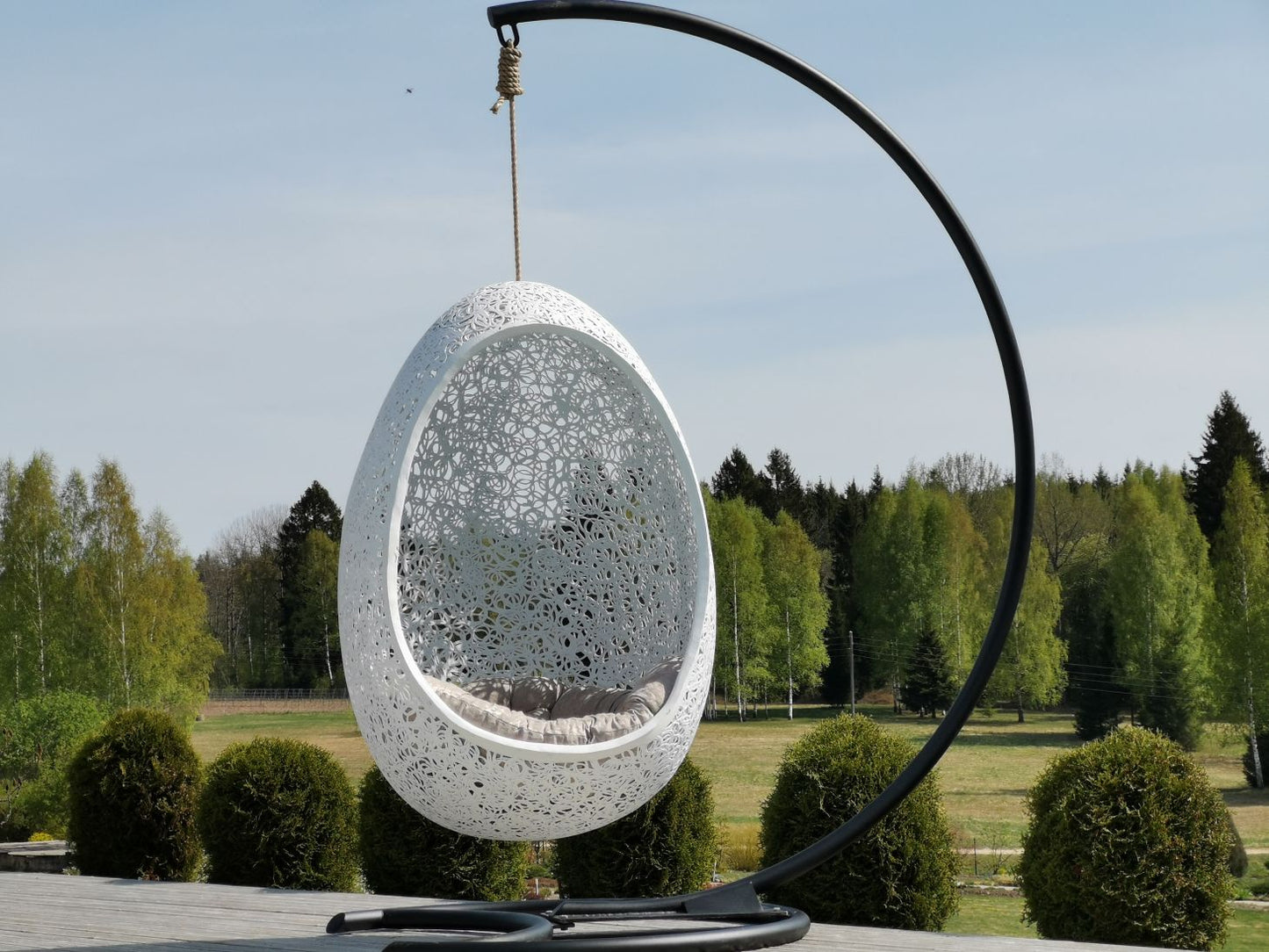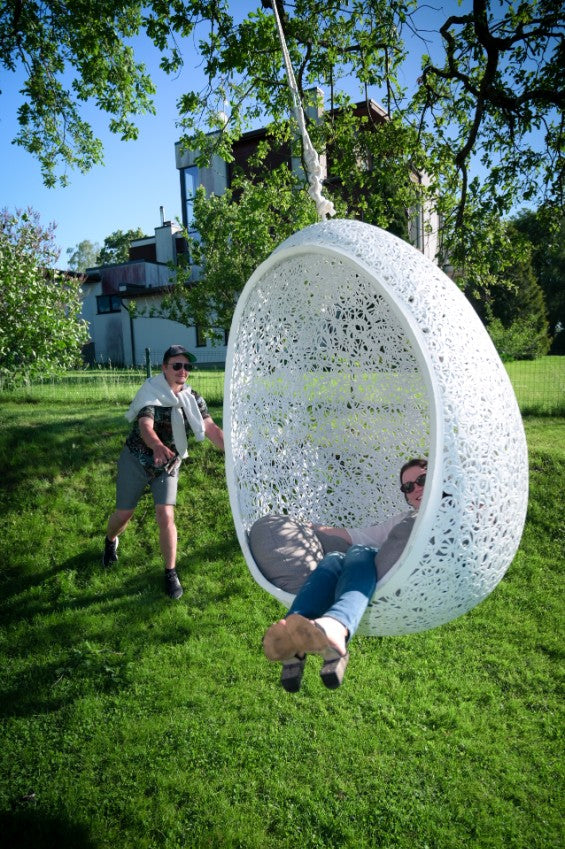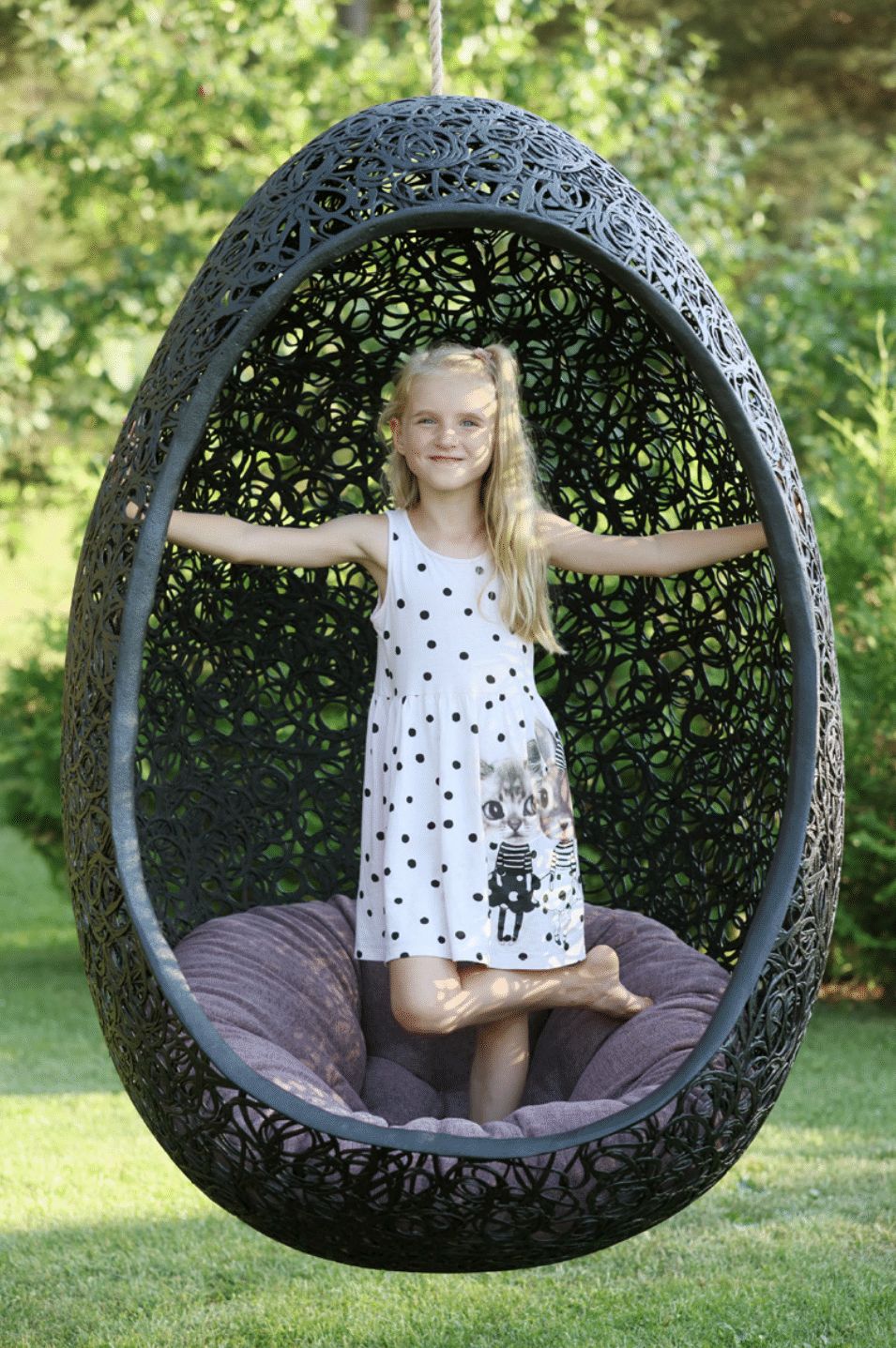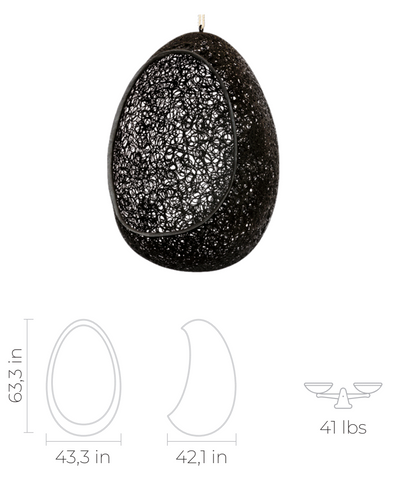 I love it!
There's nothing I love more than when the afternoon sun hits this chair and I can see the shadows of the design all over my patio. It's just stunning and such a magical creation.
Such a relaxing spot
The Egg chair feels like a cozy little cocoon when you're inside of it. Such a relaxing spot to spend my evenings just rocking with a glass of wine. I'm so ridiculously happy with this purchase.
Such a unique chair.
I was shocked because it's so light to move around but it can also hold a ton of weight. My daughters got this for my patio as a 60th birthday present and now they each want one for their own homes!
Gorgeous chair
This is such a gorgeous chair, I absolutely adore it! It looks perfect in literally every area of my home, so I may have to get a few more pieces of furniture in the near future.
Strong & Durable

Handcrafted & Unique

Natural & Sustainable

10 Year Warranty
Indulge yourself in a feeling of freedom and tranquillity.
The Egg Nest is a creative blend of elegance and stimulating relaxation. The elongated shape encapsulates you in a serene and gentle sway. The fluid swaying movement of the chair fosters creative expression and calming energy.

A delicate balance of design, function, and nature makes each of our hanging chairs unique. Volcanic rock, the principal material used in our loungers, is believed to cleanse the mind and body of negative emotions and promote a state of relaxation.

Each hanging lounger comes with:

• A black, polypropylene rope
(16mm diameter, 4 metres, can hold up to 500kg)
• A comfortable cushion
• Unique Identification Passport

Our elegant hanging chair is crafted to last a lifetime, is entirely weather-resistant, and is the ideal size to accommodate 1 person. With its timeless design, high level of comfort, and undeniable versatility, the Egg Nest will beautifully enhance any environment.
Frequent Questions
What materials are used to craft these hanging chairs?

Our furniture is carefully crafted from basalt, a naturally occurring volcanic material. Our process involves melting the basalt stone at 1500°C (2732°F) and pushing it through nozzles to create fine stone threads. As a result, basalt fibre has excellent flexibility, resulting in a finished product with remarkable strength and long-lasting durability.
Are these chairs suitable for outdoor use?

Absolutely! Our basalt chairs are entirely weatherproof and can withstand snow, rain, seawater, frost, and UV rays. Their resistance to the elements makes them perfect for both indoor and outdoor settings.
How much weight can the Egg Nest Chair hold?

Our Egg Nest Hanging Chair is exceptionally strong and can hold up to 660lbs (300kg), making it an ideal space to relax on your own.
How do I install this chair?

Each of our hanging chairs includes a rope for installation. Firmly tie one end of the rope to the chair and the other end to a stable surface where you wish to hang the chair from, such as a hook, beam, or branch.
Where do you make your products?

We have a talented team of creative designers and expert architects based in Latvia, Europe.