Grand Hanging Nest Chair
Regular price
$6,400.00 CAD
Regular price
$6,800.00 CAD
Sale price
$6,400.00 CAD
Unit price
per
Sale
Sold out
Drift off into a state of peaceful calm with the relaxing sway of the Grand Hanging Nest Chair. Connect with your family, share laughs with friends, or re-energize your soul surrounded by the grounding volcanic energy.
Features
Made with raw volcanic basalt, making it a natural and sustainable choice.
Customizable colours to perfectly complement the style of your space.
Durable and long-lasting with a lifespan of 20-30 years.
Handcrafted design ensures every piece is unique and unrepeatable.
Weather-resistant materials can withstand snow, rain, seawater, frost, and UV rays.
Easy installation and low maintenance allow for more relaxation and less worry.
Holds up to 550lbs (250kg) and is perfect for friends and family to enjoy.
Crafted with lightweight materials and easy to move around your space.
Includes a 10-year limited warranty.
Please note: the quoted price is for black furniture. To get this piece in other colours, send us a message.
Dimensions

Width: 76in (193cm)

Length: 41in (104cm)

Height: 73in (185cm)

Weight: 66lbs (30kg)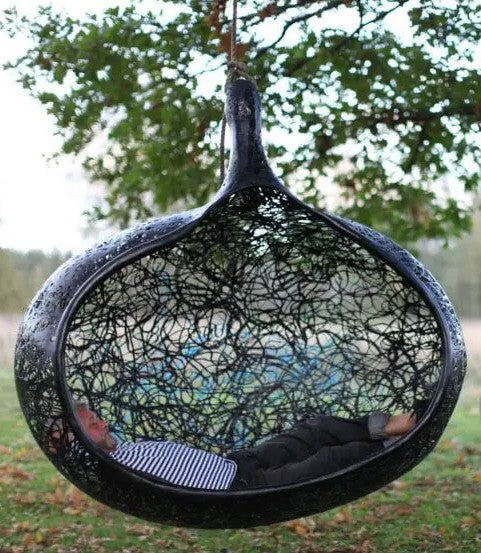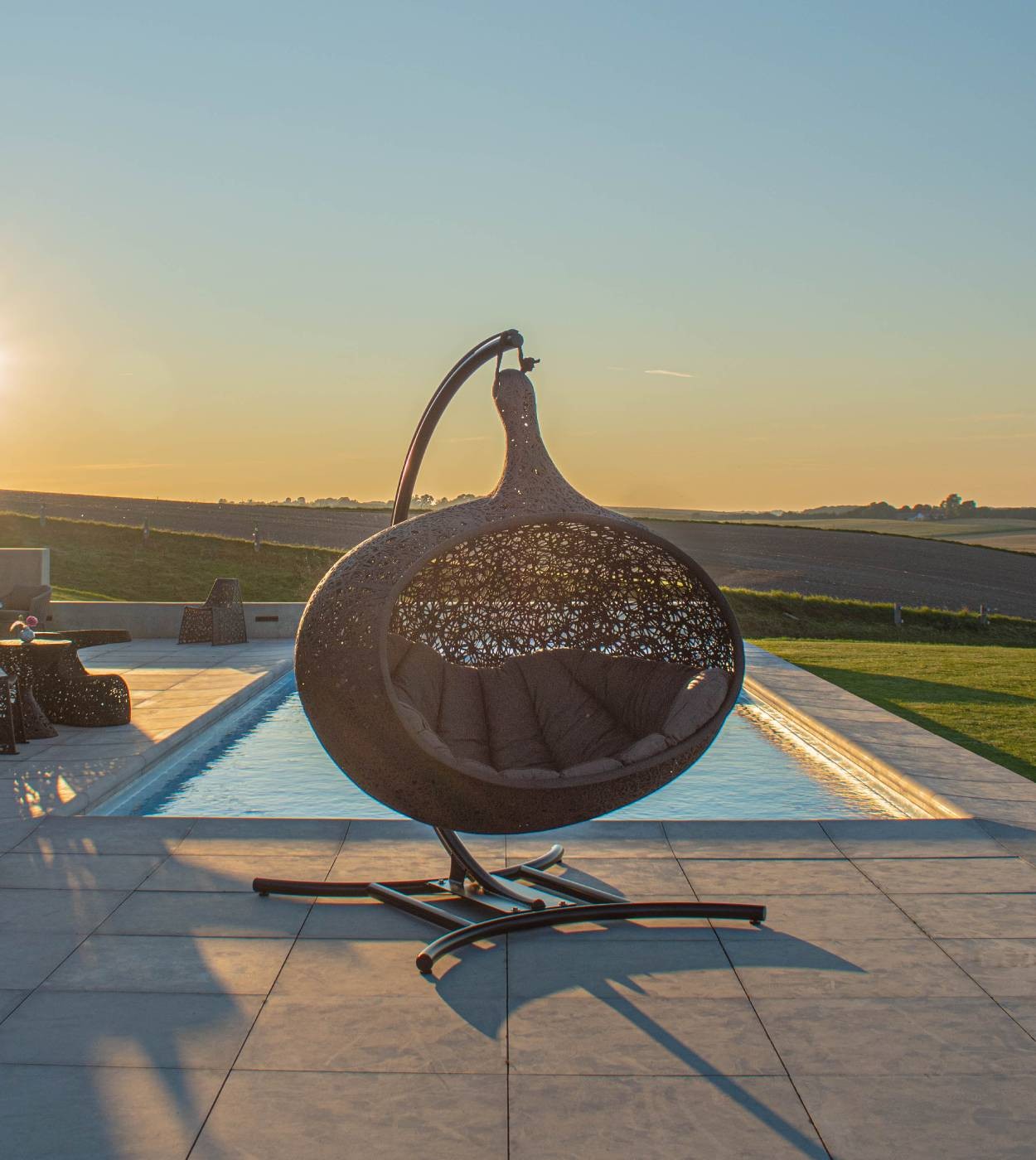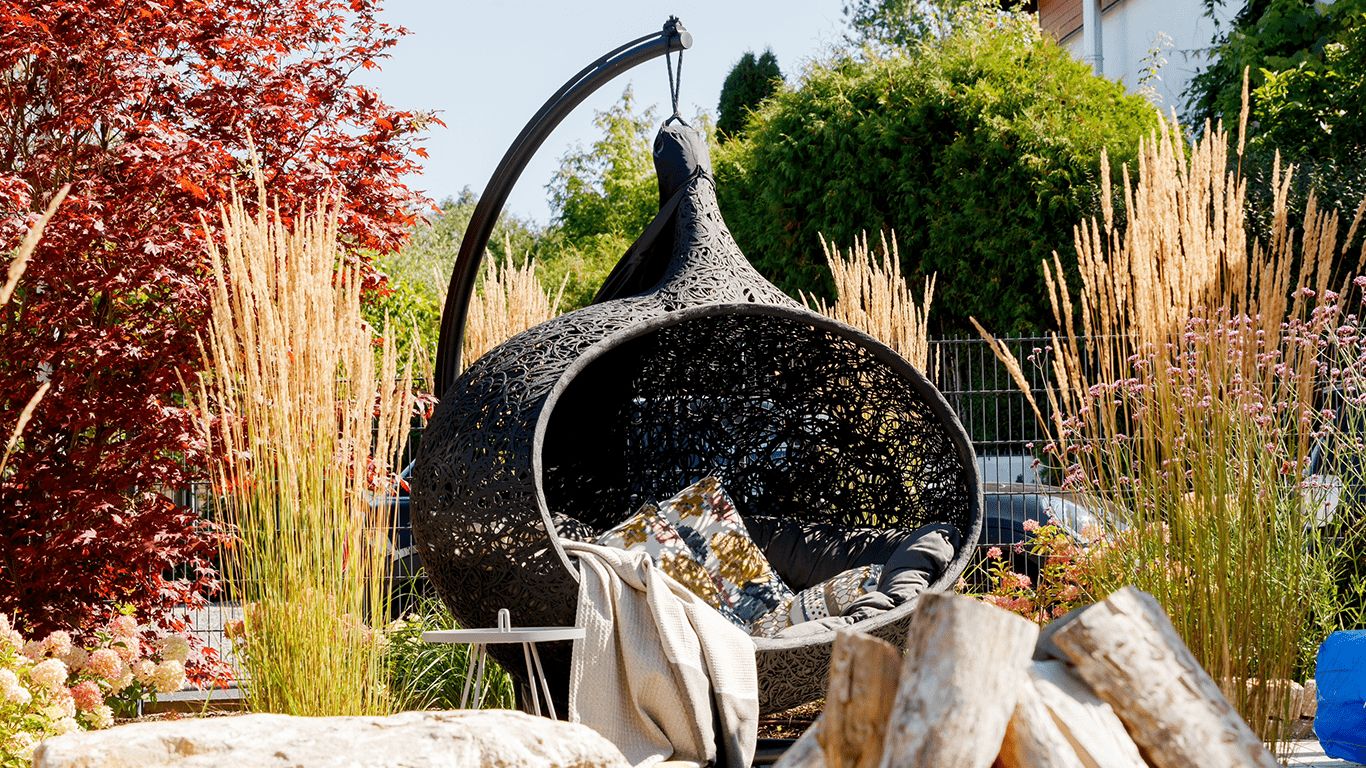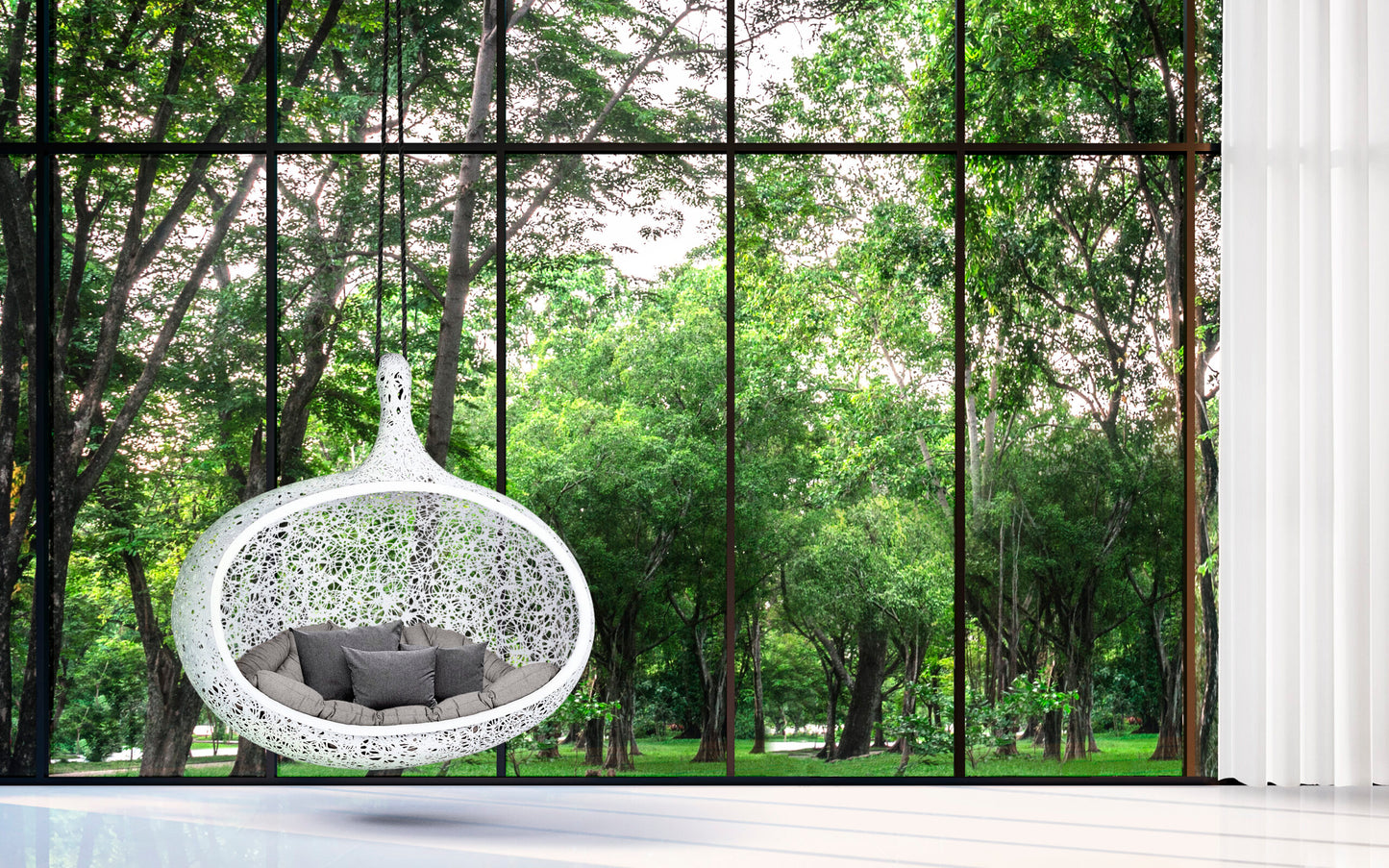 This chair is so elegant
I was amazed when I found out that I could buy a chair from volcanic rock – it's such a unique idea! This chair is so elegant and spacious, all of my friends are obssesed with how glamorous it looks!
The best spot to sit
I just finished building my pool & wanted a relaxing nook off to the side. Needless to say, this chair transformed my space and became the best spot to sit and rock when taking a break from swimming.
Such a stunning piece of furniture
We wanted something beautifully woven, but wicker chairs really don't stend up to the weather as well as a metal struture. This chair is truly th ebest of both worlds. We have the design we adore but don't have to worry about mother nature roughing it up.
Perfect
I think this hanging chair is absolutely spectaular. My partner and I love spending time in here working on our laptops, napping, or relaxing with a drink at the end of the day. We are so happy we found something this perfect for our backyard.
Grand Hanging Chair
It was so hard to choose between all of the beautiful hanging chairs, but we eventually settled on the gorgeous Grand. We're so pleased with this chair. It's comfortable, beautifully designed, and will most likely last a lifetime.
Strong & Durable

Handcrafted & Unique

Natural & Sustainable

10 Year Warranty
Experience True Rest & Relaxation
Escape the stress of everyday life nestled in a luxurious volcanic cocoon. The Grand Hanging Nest Chair was thoughtfully designed as a comfortable space to stretch out and unwind on your own or to get cozy with your loved ones. The chair's gentle swaying motion will allow your mind to wander as your body rests and truly relaxes.

Our luxurious swinging chairs are carefully crafted by hand, showcasing intricate, unique designs that will enhance your surroundings and uplift your energy. The primary element featured in our creations, volcanic rock, is said to purify the mind and inspire innovation.

Each hanging lounger comes with:

• A black polypropylene rope
(16mm diameter, 4 metres, can hold up to 500kg)
• A comfortable cushion
• Unique Identification Passport

The Grand Hanging Nest Chair is resilient and reliable, easily withstanding extreme weather conditions and corrosive elements such as seawater. Spacious, elegant and versatile, this luxurious hanging lounger can beautifully adapt to both indoor and outdoor spaces.
Frequent Questions
What materials are used to craft these hanging chairs?

Our furniture is carefully crafted from basalt, a naturally occurring volcanic material. Our process involves melting the basalt stone at 1500°C (2732°F) and pushing it through nozzles to create fine stone threads. As a result, basalt fibre has excellent flexibility, resulting in a finished product with remarkable strength and long-lasting durability.
Are these chairs suitable for outdoor use?

Absolutely! Our basalt chairs are entirely weatherproof and can withstand snow, rain, seawater, frost, and UV rays. Their resistance to the elements makes them perfect for both indoor and outdoor settings.
How much weight can the Grand Hanging Nest Chair hold?

Our Grand Hanging Nest Chair is exceptionally strong and can hold up to 550lbs (250kg), making it an ideal space to relax with friends and family.
How do I install this chair?

Each of our hanging chairs includes a rope for installation. Firmly tie one end of the rope to the chair and the other end to a stable surface from which you wish to hang the chair, such as a hook, beam, or branch.
Where do you make your products?

We have a talented team of creative designers and expert architects based in Latvia, Europe.