Stand
Regular price
$950.00 CAD
Regular price
$1,250.00 CAD
Sale price
$950.00 CAD
Unit price
per
Sale
Sold out
Sway outdoors in the glistening sun or rock in the warmth of your home. Mauna Sway's strong and durable stand will offer support and stability as you relax in your comfortable volcanic hanging chair.
Features
Made with rust-resistant powder-coated metal offering long-lasting durability.
Holds up to 660lbs (300kg), making it a strong and reliable choice.
Weather-resistant materials make it suitable for indoor and outdoor environments.
Easy installation and low maintenance allow for more relaxation and less worry.
Compatible with all of our volcanic hanging chairs.
Available in soft black to perfectly complement any space.
Dimensions

Width: 5.9ft (1.8m)

Length: 5.9ft (1.8m)

Height: 8.8ft (2.7m)

Weight: 88lbs (40kg)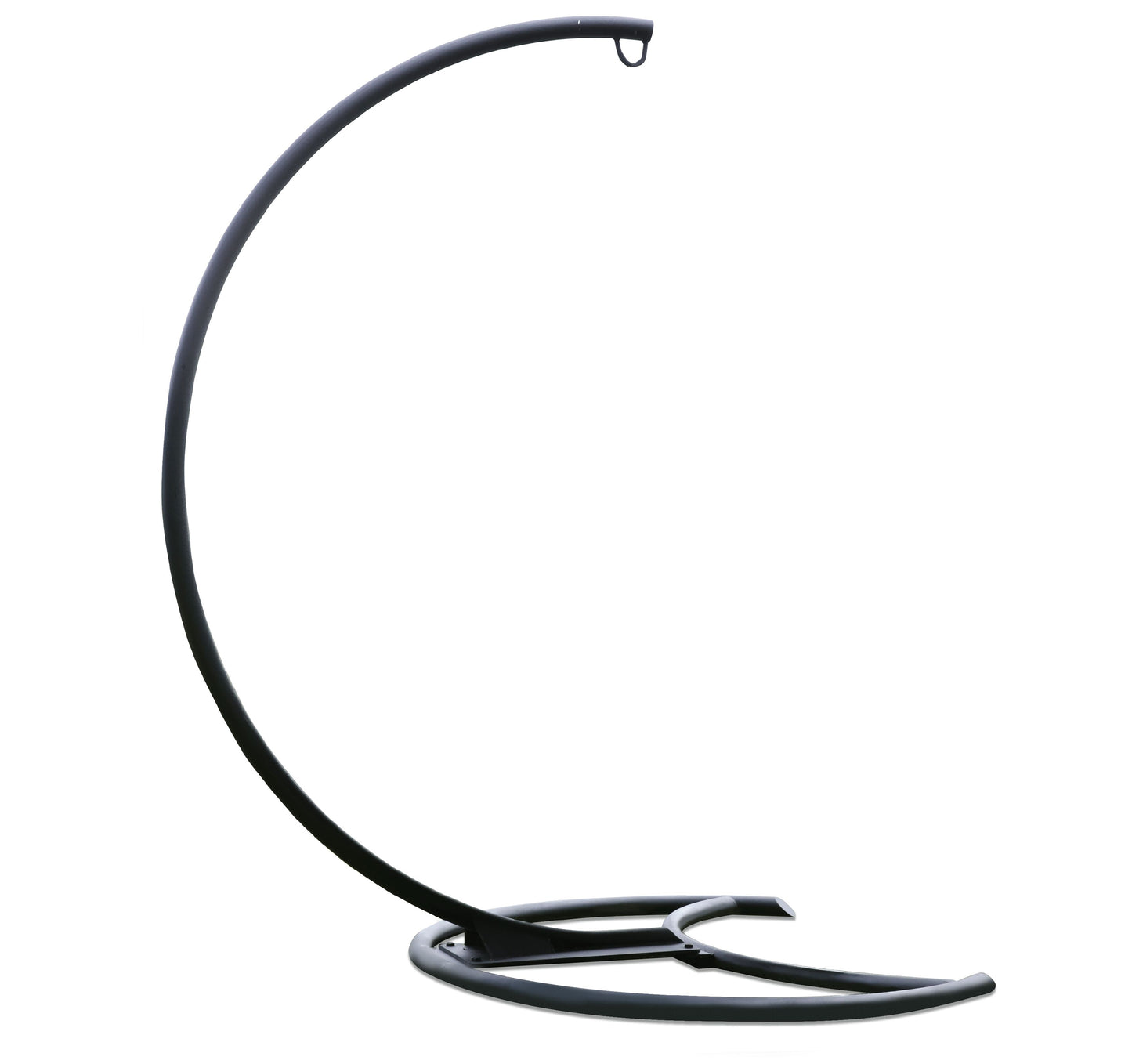 Beautiful
I bought this so I could hang my egg nest chair in my living room and it looks beautiful. It matches the black version of the chair perfectly.
Strong and sturdy.
I highly recommend purchasing this stand if you don't have a strong enough tree or beam to hang your chair off of.
It's very strong and sturdy.
I love the half moon shape of the stand. It's very strong and sturdy. Even if we're swinging in the chair, the stand still stays firm on the ground.
Quality products
I bought a hanging chair, a cushion, and this stand and I love them all. Quality products from a caring and attentive company.
Strong & Durable

Handcrafted & Unique

Natural & Sustainable

10 Year Warranty
Strong, Sturdy, and Sophisticated
Suspend your beautiful volcanic hanging chair from our sophisticated and secure swing Stand. The sleek, minimalist design will make your chair look effortlessly elegant in your home and outdoor garden space.

Our stylish stand is thoughtfully designed with heavy-duty metal and coated in durable black powder paint. In addition, the crescent moon base offers strength and stability and is perfectly compatible with any of our luxury hanging chairs.

The creative engineering to construct this stand means that it's highly durable, weather-resistant and can be left outdoors with your chair year-round.

Sway in the cool breeze on your patio or create a cozy reading nook in your living room. Relax and enjoy the pleasant rocking motion as you hang from our durable and safe stand.
Frequent Questions
What materials are used to construct this stand?

Our stand is made from heavy-duty metal and coated with durable black powder paint.
Is this stand suitable for outdoor use?

Absolutely! The stand is made with durable and long-lasting materials that make it ideal for both indoor and outdoor settings.
Is the stand heavy?

Although tall, the stand is made out of surprisingly lightweight material, weighing around 88lbs (40kg).
How much weight can the stand hold?

Our Stand is well-built and strong, holding up to 660lbs (300kg). This level of strength makes it perfectly compatible with all of our hanging volcanic chairs.
Where do you make your products?

We have a talented team of creative designers and expert architects based in Latvia, Europe.