Throne Patio Chair
Regular price
$3,950.00 CAD
Regular price
$4,350.00 CAD
Sale price
$3,950.00 CAD
Unit price
per
Sale
Sold out
 Awaken your spirit and excite the senses in the uplifting curves of the Throne Patio Chair. Embrace the feeling of luxurious simplicity as you sink into your spacious throne. Mauna Sway's Throne Patio Chair offers pleasureful relaxation, supportive comfort, and an elegant visual design.
Features
Made with raw volcanic basalt, making it a natural and sustainable choice.
Customizable colours to perfectly complement the style of your space.
Durable and long-lasting with a lifespan of 20-30 years.
Handcrafted design ensures every piece is unique and unrepeatable.
Weather-resistant materials can withstand snow, rain, seawater, frost, and UV rays.
Low maintenance

gives you more time to relax in your chair.

Crafted with lightweight materials and easy to move around your space.
Includes

 

a

 

10-year

 

limited warranty.
Please note: the quoted price is for black furniture. To get this piece in other colours, send us a message.
Dimensions

Width: 44in (112cm)

Length: 47.2in (120cm)

Height: 37.8in (96cm)

Weight: 42lbs (19kg)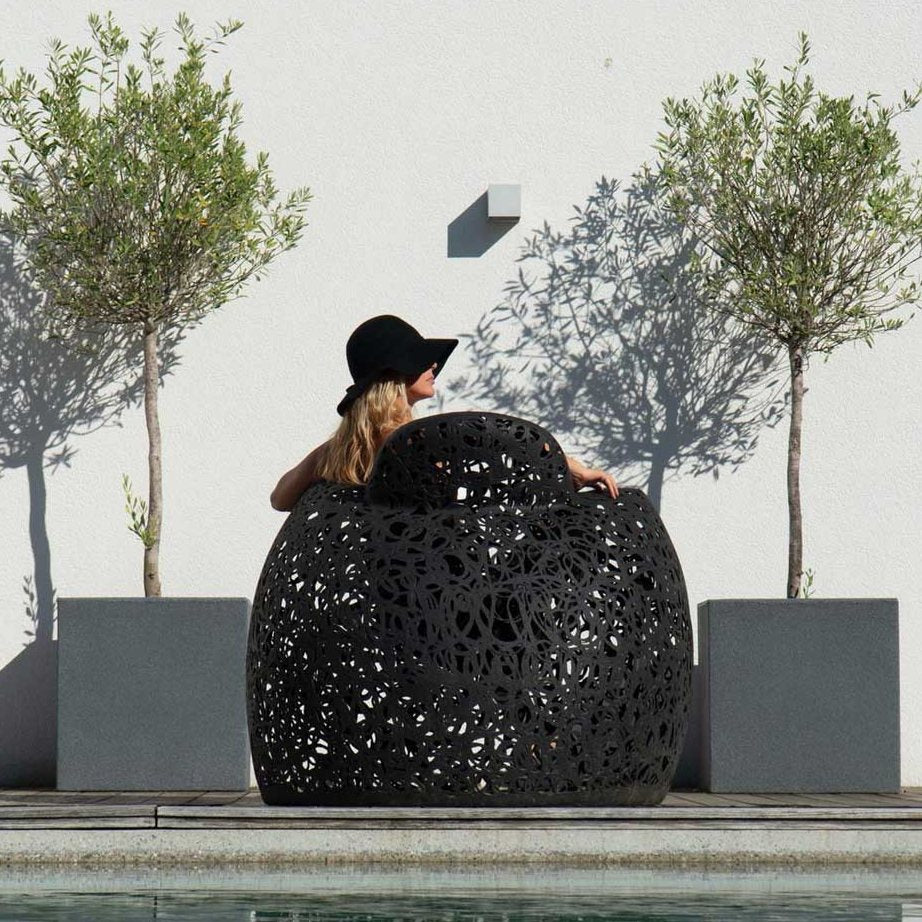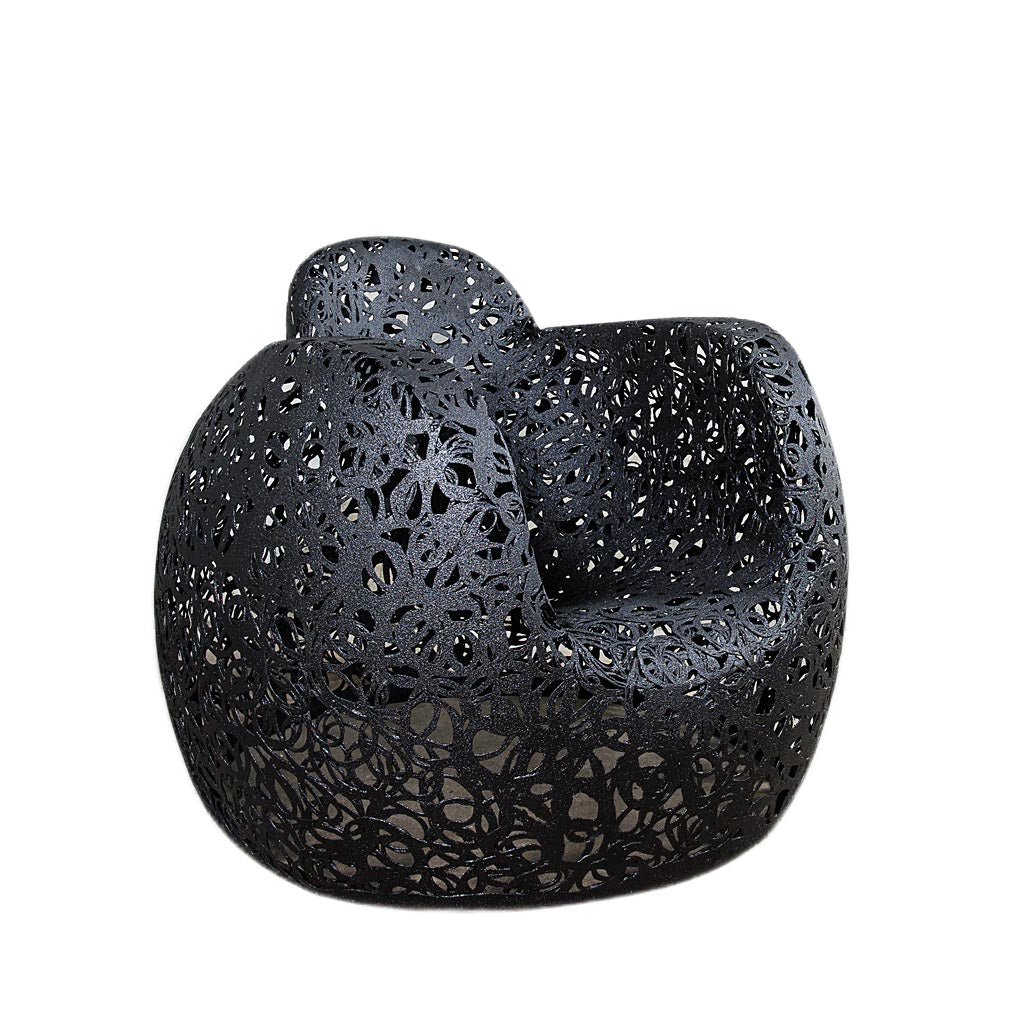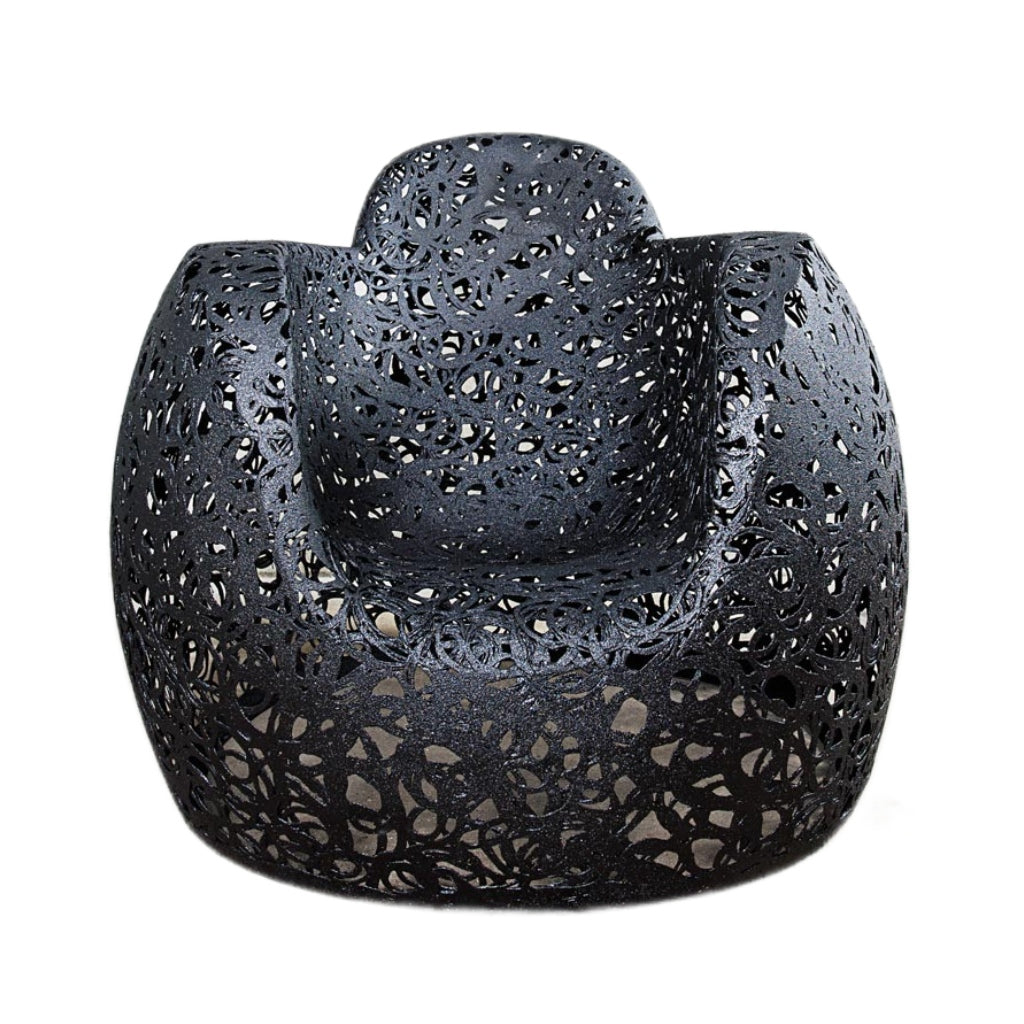 This chair makes me feel like a queen
It's spacious and supportive and obviously looks amazing.
We love it
We got this chair as a centerpiece for our outdoor lounge area and we love it. Definitely will be purchasing more furniture from Mauna Sway in the near future.
So beautiful...
I could look at this chair all day. So beautiful and I'm just blown away that it's all handcrafted, it must take a long time to make. My friends are jealous and want a chair of their own. Meanwhile I'm already trying to decide on the next one I'll get!
Thank you!
I cannot recommend this company enough! Their customer service was excellent and their furniture is such high-quality and beautifully designed.
Strong & Durable

Handcrafted & Unique

Natural & Sustainable

10 Year Warranty
Experience support and blissful comfort
Mauna Sway's Throne Patio Chair is the perfect blend of compelling originality and refined relaxation. Experience support and blissful comfort as the innovative ergonomic design cradles your body. The gentle curvature of the chair enhances both creative confidence and feelings of calm.

Natural materials and ancient concepts inspired the distinctive design of each of our luxury patio chairs. Volcanic rock, the primary material in our furniture, is said to purify the mind and encourage your imagination to wander freely.

Our artistic Throne Patio Chair design is crafted to last for years, is highly weather-resistant, and is the ideal size to seat 1 person comfortably. With its distinct aesthetic identity and practical versatility, the Throne Patio Chair is a functional piece of art that will elevate your outdoor environment.
Frequent Questions
What materials are used to craft these chairs?

Our furniture is carefully crafted from basalt, a naturally occurring volcanic material. Our process involves melting the basalt stone at 1500°C (2732°F) and pushing it through nozzles to create fine stone threads. As a result, basalt fibre has excellent flexibility, resulting in a finished product with remarkable strength and long-lasting durability.
Are these chairs suitable for outdoor use?

Absolutely! Our basalt chairs are entirely weatherproof and can withstand snow, rain, seawater, frost, and UV rays. Their resistance to the elements makes them perfect for both indoor and outdoor settings.
How much does the Throne Patio Chair weigh?

Volcanic Basalt is a surprisingly lightweight material. The Throne Patio Chair only weighs 42lbs (19kg), making it easy to move around your space.
How many people can the Throne Patio Chair accommodate?

The design of our volcanic Throne Patio Chair is incredibly spacious; however, it is only suitable to fit one person.
Where do you make your products?

We have a talented team of creative designers and expert architects based in Latvia, Europe.