Medium Cushion
Regular price
$325.00 CAD
Regular price
$400.00 CAD
Sale price
$325.00 CAD
Unit price
per
Sale
Sold out
Sink into blissful comfort with our plush medium-sized cushion. Create a cozy nook nestled away in your beautiful hanging chair to relax and sway in the sun. Available in a few delectable shades, this cushion offers long-lasting luxury and supreme comfort.
Features
Made with MILOS water-repellant fabric, suitable for indoor and outdoor environments.
Available in 2 shades to perfectly complement the style of your space.
Tightly woven fabric makes these cushions durable and easy to clean.
Thick and soft to the touch for ultimate comfort and relaxation.
Dimensions

Width: 47.2in (120cm)

Length: 47.2in (120cm)

Height: 7.8in (20cm)

Weight: 15lbs (7kg)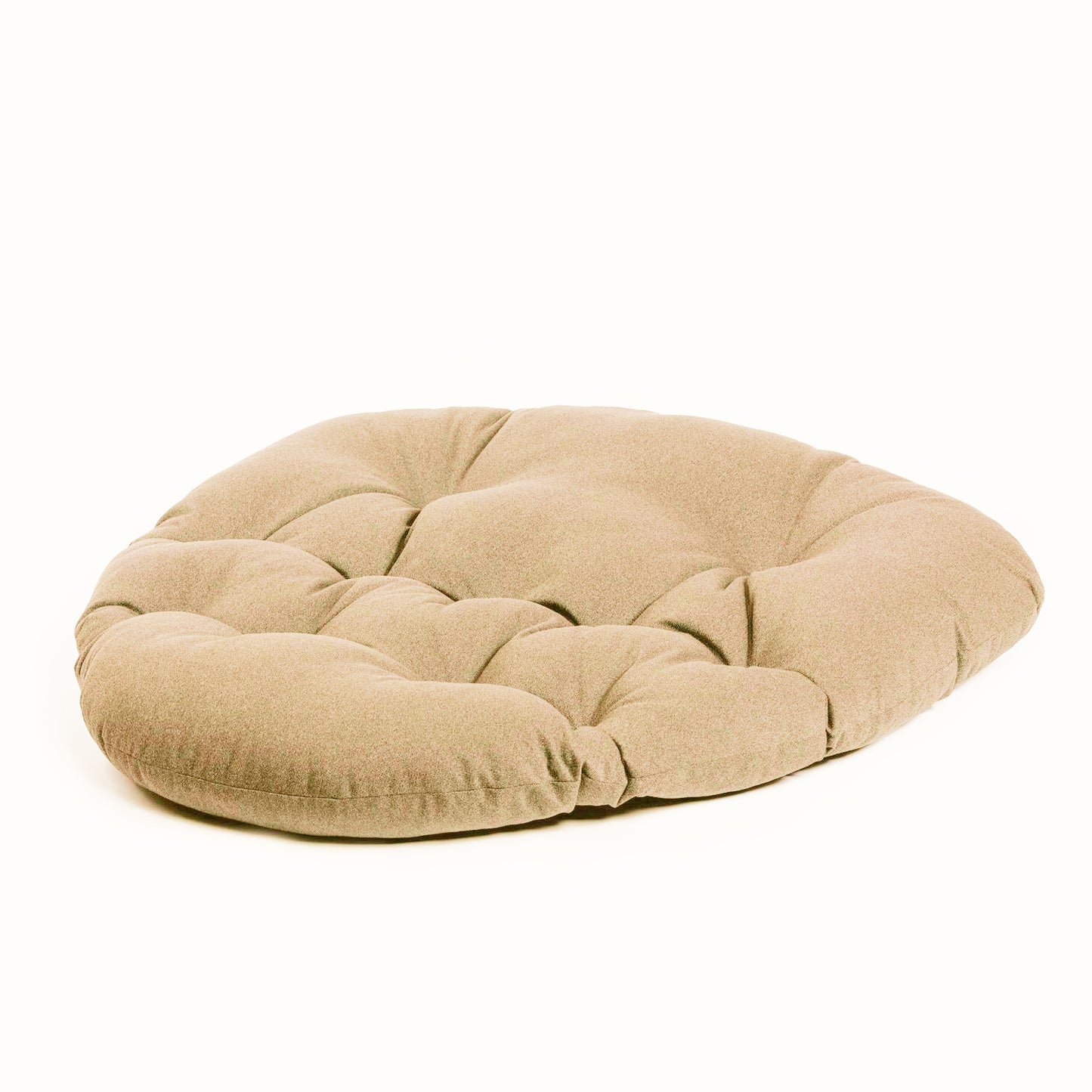 This cushion is very comfortable.
I have such a nice and relaxing space in my Loona chair now. Also the fabric is really nice and doesn't get dirty easily.
It's magical.
Beautiful colours and nice and thick cushioning. We purchased the light blue cushion to give our white egg nest chair a cloudlike look.
Exactly what I needed.
Sophisticated colours and premium outdoor furniture fabric that doesn't soak up water. Excellent product.
Cozy and comfortable!
I bought this cushion in beige but the blue option looks gorgeous as well. It's a really nice contrast to the charcoal black of the chair.
Strong & Durable

Handcrafted & Unique

Natural & Sustainable

10 Year Warranty
Beautiful, Durable, and Comfortable
Mauna Sway's medium-sized cushion is the perfect way to add a touch of comfort and style to your volcanic hanging chair. Available in soft sophisticated hues such as light blue and beige, the subtle accent tones will highlight the beauty of your outdoor space.

We use premium MILOS fabric to design all of our luxury chair cushions. This innovative material is water-repellant, meaning any liquid will pool on the surface giving more time to wipe up any spills and droplets before they absorb. This high-quality fabric is eco-friendly and durable, making it the perfect addition to your outdoor patio space.

Our cushions are as comfortable as they are durable. The fabric is soft to the touch and they're the perfect amount of thickness so you can sit back and relax, nap, or socialize nestled in your cozy volcanic hanging chair.
Frequent Questions
What material is used to make these cushions?

MILOS water-repellent fabric is used to create our comfortable cushions. This tightly woven polyester material has a unique protective coating that prevents liquids from absorbing quickly, making it the perfect choice for both indoor and outdoor spaces.
What chairs does the Medium Cushion fit?

Our Medium Cushion is the ideal size for the Loona Hanging Chair, the Egg Nest Hanging Chair, and the Apple Hanging Nest Chair.
Is the Medium Cushion heavy?

The Medium Cushion is unexpectedly light, weighing 15lbs (7kg), making it easy to move around your space.
What colours does the Medium Cushion come in?

We currently have 2 cushion colours available: light blue and soft beige.
How thick is the Medium Cushion?

The Medium Cushion is extra-comfortable with 7.8in (20cm) thickness – making it perfect for relaxing, napping, or swaying in the sun.